Author: Communications Team
Date: 09 11 2023 13:58
---
In 2023 the good ship Dark Star will once again be the vehicle to bring back a world famous, historic beer that was first produced almost 100 years ago. That beer is George Gales Prize Old Ale which was first released back in 1928. The latest version of the beer will include some of the last drops of the original Prize Old Ale which was last brewed back in 2011 by Gale's brewers at the Fullers Brewery.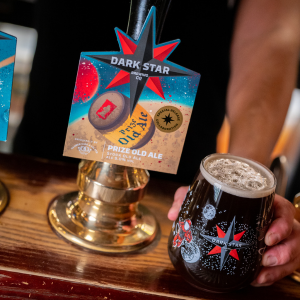 Thanks to people like John Keeling and Henry Kirk formerly from Fullers and Dark Star the beer was kept and protected in tanks for the last 12 years at the Fullers brewery. Since then, it has seen a couple of releases over the years but has not been brewed regularly since the closure of the brewery. Dark Star first brought the beer back in 2022 and now commits to brew the beer every year as an annual release.
Key brewing information
"The beer was brewed using a combination of traditional ale malt, wheat for mouth feel, roasted malts and brewers invert sugar, which provides the beer with a deeper richness in flavour and notes of stone fruit. The new batch of Prize Old Ale was allowed to ferment with the original Gales yeast which was transferred in liquid form from the Fullers brewery who still manage the original yeast strain for beers like HSB. After fermentation, the beer was blended at a 50/50 rate into the original batch of Prize Old Ale and allowed to mature for 3-4 months until it was packaged. The original batch of Prize Old Ale was carefully tankered from the Griffin Brewery to Meantime where it will be housed going forward." Sven Hartmann, Lead Brewer Dark Star
Where can you purchase?
For 2023 there will be 3,000 x 500ml bottles of Prize Old Ale. It will release on Thurs 16th of November on the Dark Star website. In 2022 the online release saw the beer sell out in just 48hrs! There will also be a very limited number of casks available from the 23rd Nov within the Fullers pub estate. Including, The Harp in Covent Garden and The Mitre Holborn. The Wellington in Shoreham on Sea, owned by Dark Star founder Rob Jones, will also be stocking casks of the beer. To keep track of
which pubs will be stocking follow @darkstarbrewco