Author: Communications Team
Date: 05 09 2023 15:37
---
August 2023: Asahi Super Dry, the UK's No.1 Japanese beer, is launching a £1.3 million campaign from September to support its status as worldwide partner and official beer of Rugby World Cup 2023.

The campaign includes outdoor and print advertising, as well as social media and trade activity, to help retailers and on-trade operators grow their sales. It will reach 75% of all lager drinkers across the country from 4th September to 28th October.

Nationwide outdoor advertising will be present across England, Wales and Scotland, including dynamic digital adverts near on-trade outlets, which will show the score during matches and direct consumers to the nearest pub or bar.

Asahi Super Dry is also partnering with LADBible, The Guardian, The Times, The Daily Mail and The Sun to drive awareness among lager drinkers.

On-trade customers will be able to win tickets to the Rugby World Cup final by posting photos of their venue decorated for the tournament and tagging Asahi Super Dry's Instagram and Facebook accounts, using the hashtags #rugbywithasahi and #RWC2023.

Asahi Super Dry has also partnered with the Fanzo Pub Finder app, which will feature more than 3,000 venues worldwide. The app will help its 2 million users to find venues to watch the games in their local area.

Asahi's London activity will centre on a Fanzone area at The Scoop, an amphitheatre in London that overlooks Tower Bridge. The activation will be live for seven weeks from 8th September.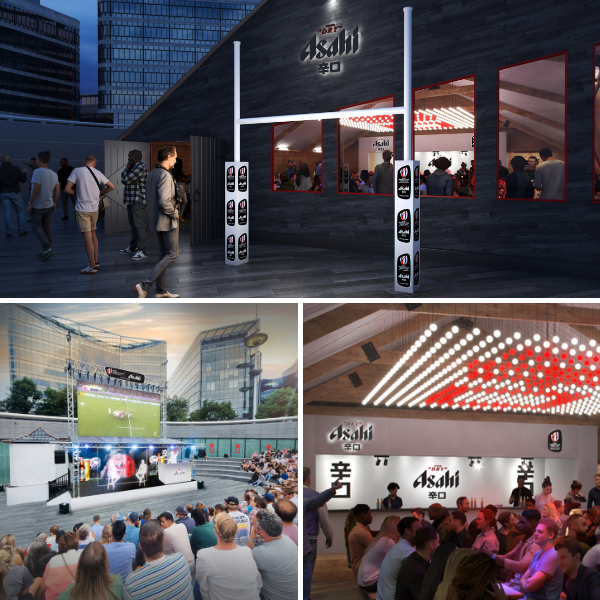 On 9th September, England will have their first match against Argentina, with Asahi Super Dry marking the occasion with a watch party at The Scoop hosted by England Rugby World Cup winner Jason Robinson. Consumers will have the chance to win tournament merchandise. The brand's advertising will be projected onto the nearby City Hall, one of London's most iconic landmarks, driving impact.

The Fanzone area at The Scoop will be non-ticketed and bars will be open every day during the tournament. During the semi-finals, the brand will give away a "beyond expected" prize to one lucky consumer.

The brand will utilise advertising with Rugby World Cup visuals at London Bridge underground station to direct people to The Scoop for a refreshing glass of Asahi Super Dry. The fanzone will also be promoted with a cover wrap of the Metro newspaper.

London buses that have routes that go through the London Bridge area will be wrapped with Asahi Super Dry Rugby World Cup advertising, with neon lights to illuminate the night.

Asahi Super Dry is also taking over Waitrose in Coal Drops Yard, London from 20th September – 2nd October. There will be sampling of Asahi Super Dry 0.0% and impactful visuals in place at the store's entrance, within its wine bar and outdoors. There will also be signage present at King's Cross Waitrose directing commuters and rugby fans travelling to and from France to the activation.

Sam Rhodes, Marketing Director at Asahi UK, said: "The partnership between Asahi Super Dry and Rugby World Cup 2023, will support the on- and off-trade to drive sales of premium lager. This will be backed up by a £1.3 million marketing campaign to help generate excitement in and around the tournament, including the great social occasions and opportunities it creates.

"Through the Fanzo app, we will reach consumers and help them find some of the best venues to enjoy the games, where they can soak up the atmosphere over a refreshing Asahi Super Dry or Asahi Super Dry 0.0%, while our off-trade activations will further inspire and engage rugby fans during the tournament to elevate occasions at-home."